Sean Donnelly FCMA CGMA provides a business planning, accounting and business mentoring service designed to improve client's profitability and cash flow
Many business owners receive accounting information with no real insight into how they can improve their sales, cash flow or profitability.
In many cases business owners/managers receive accounts showing the outcome of problems and poor trading but fail to receive solutions or ways of improving their situation.
Sometimes owners receive financial information which either fails to disclose key information or frequently it is buried in the details of accounts.
Failure to get the key critical information is a recipe for trouble if not disaster. Sean's business planning service provides the key information on the current situation as well as options for improvement in sales, margins profitability and cash flow.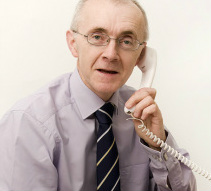 Unless owners have the key critical information readily available their situation is unlikely to improve.
Sean works with clients to give them a very clear picture of their existing and likely future situation.
A strategy for improving performance, profitability and cash flow can then be agreed and implemented. Full implementation of workable solutions is the key factor in delivering strong benefits to clients.
If you are not getting information to enable you bring improvements to profitability and cash flow why not contact me for a discussion without any obligation on your part.